Honeywell T10+ Pro
Smart Thermostat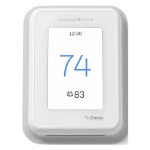 ---
PRIORITIZE MULTIPLE ROOMS AT ONCE
With the T10 Pro Smart Thermostat and RedLINK™ Room Sensors, you can prioritize comfort in different rooms at different times – like living areas during the day and in bedrooms at night.
HOME AIR IN PERFECT BALANCE
Control humidification, dehumidification, or ventilation from your thermostat or your Resideo app. Air quality isn't just important for you, it helps your home's heating and cooling system run smoothly too.
COMFORT WHEN HOME, SAVINGS WHEN AWAY
With the Resideo app, the T10 Pro Smart Thermostat knows when you're coming and going, no matter your schedule.
SMART RESPONSE® & ALERTS
The T10 Pro Smart Thermostat learns your home's heating and cooling cycles. .
PEOPLE DETECTION
RedLINK™ Room Sensors can automatically focus on occupied rooms.
FocusPRO® 6000
Programmable, 1H/1C, Large Display Thermostat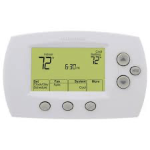 ---
The Honeywell Home FocusPRO® 6000 offers the perfect blend of features, performance. energy savings and value. With an easy-to-read digital display, FocusPRO 6000 prominently displays both room and set temperature.
Selectable to 5-1-1 (Weekdays, Saturday, Sunday) or 5-2 (Weekdays, Weekend) programmable thermostat.
Large, clear, backlit display - easy to read in various lighting conditions.
Precise comfort control (±1 F) - maintains consistent comfort to the highest level of accuracy.
Adaptive Intelligent Recovery™ - ensures programmed temperature is reached by programmed time.
Easy change battery door - flip out door allows for easy battery replacement without removing or disassembling the thermostat.
Comfort Sync® A3 Thermostat
YOUR SCHEDULE, YOUR WAY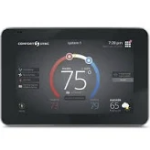 ---
Enjoy sophisticated system management, unprecedented control and exceptional energy savings with a Comfort Sync® thermostat. It's the best way to get the most out of every part of your Armstrong Air system.
Remote Access extends control to anywhere.
The Comfort Sync thermostat puts advanced temperature monitoring and adjustment in your hands, no matter where you may be.
Tailored performance for every room.
Comfort Sync Zoning divides your house into two, three or four different areas, or "zones," and redirects heating and cooling to those zones as needed.
Away Sync™
Uses the GPS in your smartphone to detect when you're leaving and automatically changes the temperature to a more energy-efficient setting.
Schedule Sync™
Means you only need to program your thermostat once. Whenever there's a change in your routine, the thermostat adapts heating and cooling to match.